Social Media Management: A Revolution
26.06.20
Webeasts® is a
multi-channel digital marketing agency in New Delhi, NCR & on Cloud (Of-Course).
Social Media Management Hacks 101
Did you know that we spend around 142 minutes a day, as per the research by Brandwatch, on Social Media? Imagine how likely it is for people to have a social media account and a life that is influenced by Social Media?
Just to be precise, Brandwatch says that there are 3.5 billion active social media users in the world. This is exactly why each brand strives to have a successful social media account in today's world.
"Around 91% of retail brands use 2 or more social media channels to advertise and expand their business."
as collected by Brandwatch.
From the viewpoint of the consumers as researched by Hubspot, there is around a 50% increase in the chance of consumers buying products through the brand's social media if they generate user-friendly content.
Through all the above numbers, the research and analysis we gather are that Social Media has become an indispensable channel or a part of your business. It is just as important as your product is.
Having a product won't really help in expanding your network. Lyfe Marketing found that 63% of consumers who search for businesses online are more likely to become consumers of brands with an established social media presence. There might be certain questions to address, let's check them out:
Why would a brand come to us (us being a digital marketing agency)?
With all the above stats, we know that a digital presence is required. It's difficult for a brand to breathe in this digital-first world, otherwise.
There are many reasons for a brand to reach out to us, their re-branding, branding, digital expansion, online marketing, social media management, website development and much more. For instance, a premium fashion brand came to us when they had registered their company and now, they have their own online space where they have an amazing ORM running for them.
How Social Media Management affects your brand?
Social Media is where we spend most of our time in a day. We have social media managers in companies just to make sure that they are missing out on none of the opportunities to grab.
It's evident that the world is digitally-driven, so, not having a social media presence would contribute negatively to the brand or not contribute at all. Social media validates your presence.
A brand having all social media accounts and a website is preferable than a brand with none of them. It's an essential way for companies to reach consumers and when done correctly, we have organic reach, amazing ORM (Online Response Management) and Page Likes.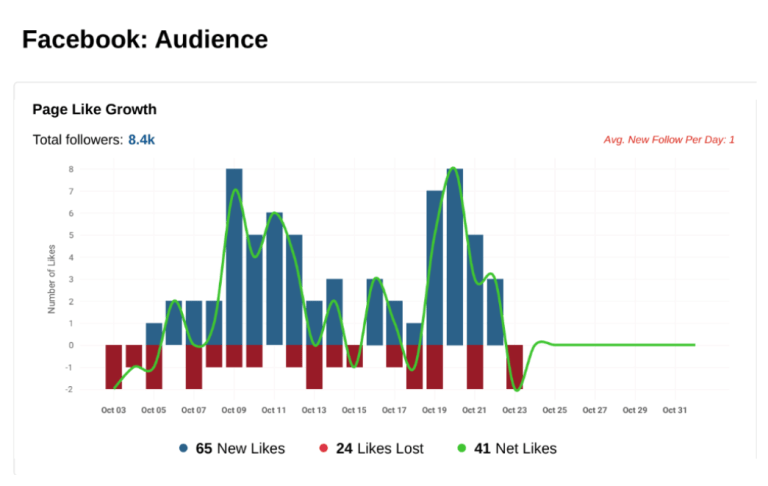 One month analysis of a premium fashion wear brand, our client.
Social media is a data-driven space and so are we, as a digital marketing agency. Until the time you know who your customer is, what do they do, what is their focus during the day and how much screen time do they spend; It would be a little difficult to understand the kind of creatives or posts you want them to see. So, we need to first analyze our customer and create their customer portrait in our minds to show them what they love. That's how necessary a social media presence is for a brand because it helps you map your consumer and know them through their behavior on social media.
Just as in the above graph, we can see that there are around 65 likes on the page and 24 likes lost as well, which means that the lost likes are balanced and there are more to go too. It is because we know who the end consumer is, we have their portrait.
What a brand misses out on while not being on social media?
The longer you wait to get a social media presence, the more you are losing out on; more customers, more traffic and more engagement. Without social media, your brand will have a closed circle in regards to who they are selling the product to.
Did you know that 66% of the marketers that spend at least 6 hours a day on digital media have been able to pull out more leads? Having a social presence of a brand can increase your reach through quoted texts.
The absence of proper social media management may distract you from reading your audience correctly because it helps in connecting well with your customers and followers.
Gone are the days when we needed to spend lakhs on print advertisements. Social media provides you with better advertising budgets. These help in targeting and retargeting your followers and users.
Tomorrow starts today:
Digital Marketing Agency Guide for an Ecommerce Website